Our Mission Statement
Investors - Non-compromising, high quality customer service through accountability and commitment.
Residents - Friendly service provided in a timely, professional manner, while treating all customers with dignity and respect.
Employees - Industrious work environment marked by support, trust, fairness, and honesty.
Nicolosi & Fitch is a local company and our employees are scattered all over Southern Arizona, so our employee page is the best way to get information on everything that's happening within our extended family.
Check in frequently to find out about birthdays and service anniversaries, along with many other things that help us stay in touch. We also want your suggestions andopinions.
Check out the Contact Us section of our website to submit your suggestions.
Hero Of The Quarter - 4th Quarter 2019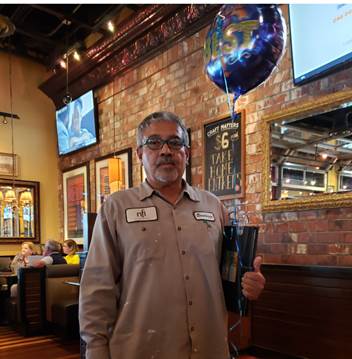 Santiago Espinoza
Santiago was chosen for this award due to his willingness to work at ANY property at ANY time in addition to being on call for properties he normally does not work at. Santiago has never refused or had an issue with helping where he is needed and he does so with professionalism and pride. When NFI took over Latitude 32 in August 2019 he worked daily doing grounds, pool and on call until October 2019 all while keeping up with his own two properties. Thank you for all you do Santiago! We are so proud to have you on team NFI. #NFIPROUD