Our Mission Statement
Investors - Non-compromising, high quality customer service through accountability and commitment.
Residents - Friendly service provided in a timely, professional manner, while treating all customers with dignity and respect.
Employees - Industrious work environment marked by support, trust, fairness, and honesty.
Nicolosi & Fitch is a local company and our employees are scattered all over Southern Arizona, so our employee page is the best way to get information on everything that's happening within our extended family.
Check in frequently to find out about birthdays and service anniversaries, along with many other things that help us stay in touch. We also want your suggestions andopinions.
Check out the Contact Us section of our website to submit your suggestions.
Hero Of The Quarter - 3rd Quarter 2019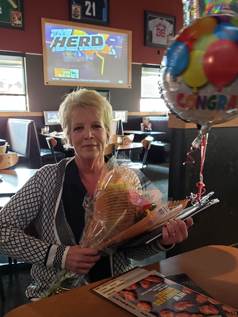 Pamela Lapp
During this past monsoon season, Mountain Steppes experienced between 30-50 roof and/or siding roof leaks each time it rained! Pamela endured an onslaught of resident anger and frustration at the lack of correction to this problem. Pamela was able to keep her staff focused during this very difficult time, maintained an average occupancy during 3rd quarter of 94.62%, and had her maintenance team take care of the interior damage. In fact, Pamela's own apartment experienced a leak and she put her residents before her needs. We are happy to announce that all the roofs have since been replaced and NOT ONE LEAK was experienced in this last rainfall!

Way to show NFI Spirit, Pamela! We are #NFIPROUD of you!
---
Frank Aguirre
It is with heavy hearts we announce the passing of Frank Aguirre as a result of a motorcycle accident. Frank was a Maintenance Supervisor for multiple properties and a valued team member. We are so saddened by this tragic loss and offer our deepest condolences to the family.